Description
Grand Opening!
No Hesitation!Purchase at once!!!
EAGET official authorization:
We gurantee to provide 100% Original product,please be assured the purchase.
EAGET G30 Certified External Hard Drives 1TB High Speed 2.5″ HDD USB 3.0 Desktop Laptop 1tb Hard Disk 1tb External Hard Drive
Main Features:
– Plug and play, simple and easy to use
– Embedded encryption tool AES 256-bit and HD Lock to enhance data safety
– 500G / 1TB / 2TB / 3TB capacity, perfect partner of your notebooks
– High-speed USB 3.0, read speed is 150MB/s, write speed is 107MB/s
– High shock resistance, multilayer structure vibration-proof design
– No need to install any drivers, easy to use
Application: Desktop,Laptop
Interface Type: USB 3.0
Size: 2.5″
Package weight: 0.34 kg
Product Size(L x W x H): 12.00 x 7.60 x 1. cm / 4.72 x 2.99 x 0.47 inches
Package Size(L x W x H): 15.80 x 10.80 x 5.50 cm / 6.22 x 4.25 x 2.17 inches
Package Contents: 1 x G30 Portable Hard Driver, 1 x USB Cable
Attention:Hard drive manufacturers is 1000 hex, WINDOWS is 1024 decimal, so the actual capacity may be tolerance.
1TB=approximately 930GB-970GB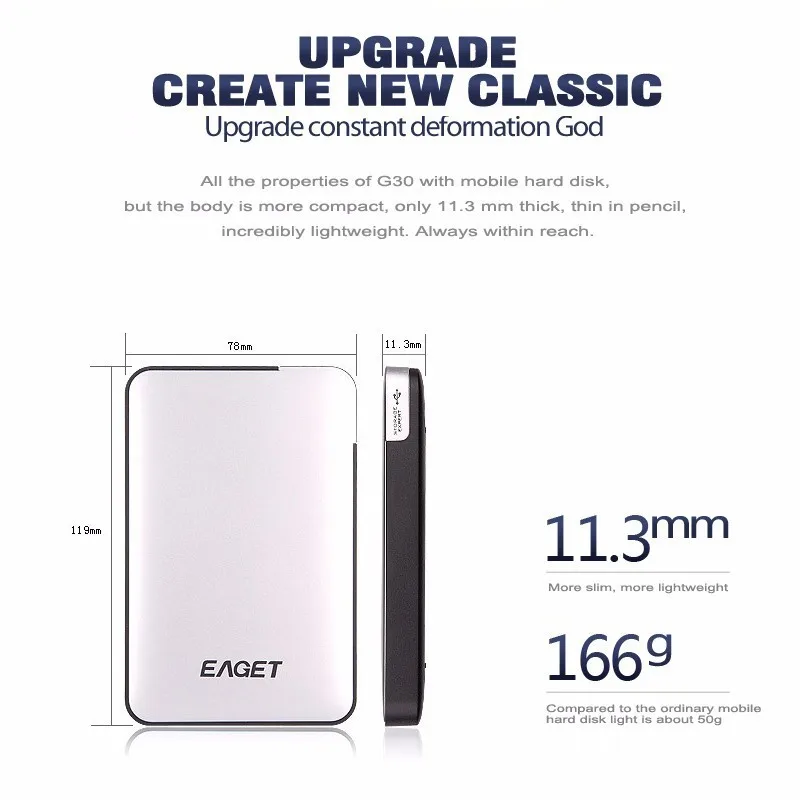 Buy Now!!Eaget G30 External Hard Drive High Speed HDD 500GB 2TB 3TB USB 3.0 Hard Disk HDDs Case Desktop Laptop Mobile Hard Disk
Buy Now!!Eaget G30 External Hard Drive High Speed HDD 500GB 2TB 3TB USB 3.0 Hard Disk HDDs Case